01.09.2023
Smart Solutions is a reliable employer
Finding a new job is a challenging and exhausting process for everyone, no matter what level of experience, qualifications, or education one may have. It is a journey that people set out on with different expectations and goals. For those who are at the start of their career path, this can be a period of great uncertainty. Experienced professionals will find it a challenge and kind of capability check.
But the good news is that one does not have to go through a long search for offers, numerous interviews, call waiting and disappointments. One can enlist the support of Smart Solutions HR agency, which will guide one into the world of professional opportunities and help find a job that meets the needs, skills, and ambitions of each candidate.
Let me tell you more about Smart Solutions
Since 2009, Smart Solutions has been working with the best companies and professionals, helping them find each other and achieve common goals.
We have become a leading HR provider in Ukraine and a reliable partner for leading companies in Poland, the Czech Republic, Hungary, Kazakhstan, Azerbaijan, Uzbekistan, and Kyrgyzstan. We opened 6 international branches and 15 regional offices. The company is certified and operates in accordance with international standards and local labor laws.
Advantages of cooperation with Smart Solutions
We are proud of having employed more than 12 500 Ukrainian and foreign employees in various industries. Our team believes in the potential of each person and makes it possible to unlock it.  There are offers for both professionals with years of experience and those who do not yet have sufficient experience.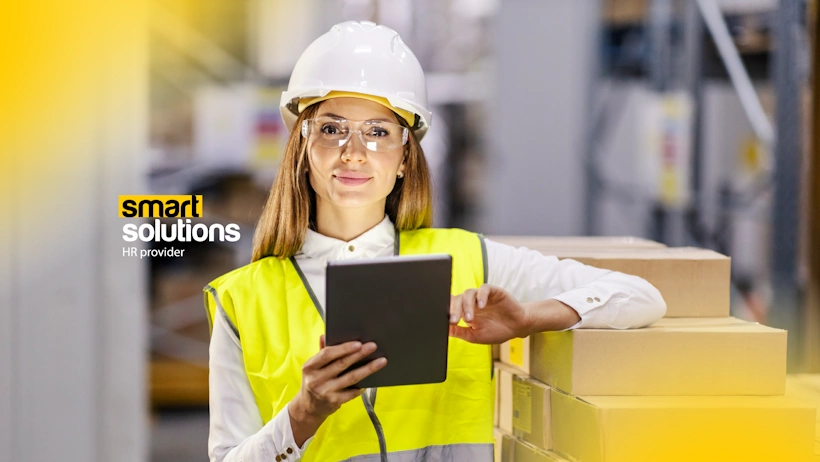 Long-term cooperation is our goal. This means that we do not disappear as soon as the contract is signed. We support companies and professionals at all stages. We make sure that each of the parties is satisfied with the terms, conditions and result. We offer not only employment, but also logistical support for personnel, proper training, compliance with labor laws, occupational safety, etc.
Why do companies choose us?
Reliability. The reputation of Smart Solutions can be confirmed by years of experience and the trust of many well-known companies, such as OLX, Lifecell, METRO, Hennessy, Caparol, Comfy, Gorenje, and more than 500 others that have already entrusted their development to us.
Professional background in various industries. We clearly understand that each business line has its own specific needs and characteristics, so our team selects candidates who meet the unique requirements of each individual partner.
International approach. We offer assistance to companies not only in Ukraine but also in many other countries of the European Union. One of our key competencies is outstaffing. We find teams of employees to fulfill tasks and projects of any complexity, enabling companies to use resources efficiently and focus on strategic business goals.
Efficiency and speed. Our database contains more than 15 000 highly experienced professionals. Such an approach allows us to quickly recruit the necessary personnel, regardless of the location and nature of the company's business.
Long-term cooperation. We do not just find employees, but also assist in their development within your company. Our partnership is an investment in the future of your business.
Why do employees trust us?
Reliability. We cooperate only with trusted well-known companies that adhere to high social standards and approaches.
Professional support. We do more than just employment assistance; we provide support at every stage. We guarantee the protection of the rights and interests of our employees.
Wide range of job offers. Extensive base of partner companies allows us to offer a variety of job positions in various industries.
International employment. Thanks to the broad geography of our activities, we can offer professional opportunities not only in Ukraine but also in various European countries. A large number of partners are concentrated in Hungary, the Czech Republic, and Poland.
Decent working conditions. We comply with labor laws and make sure that our employees have decent working conditions, remuneration and a motivating incentive system.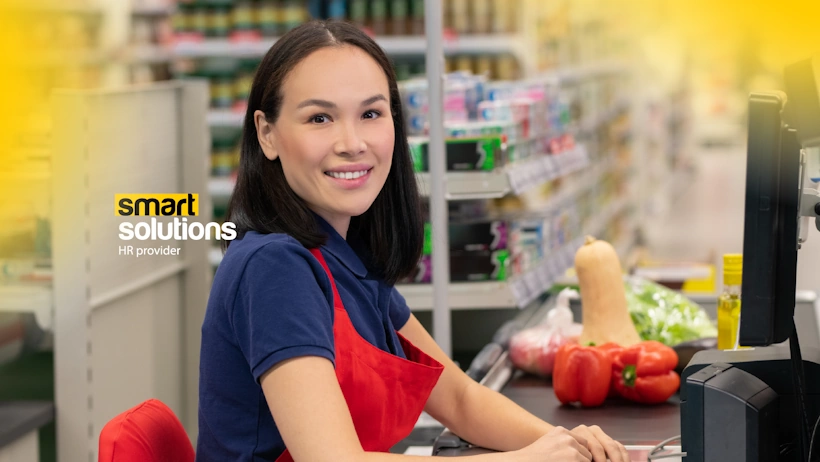 Professional opportunities with Smart Solutions
We strive to find job positions where employees can unlock their potential and make a significant contribution to their own development and growth of the partner company. The most popular job positions are as follows:
loader operators;
movers;
labelers and packers;
cashiers;
store associates;
waiters;
fitters and welders;
processing line operators;
cleaning staff, etc.
Please don't be discouraged by the fact that most of these job positions are in the labor sector. The days when such professions were seen solely as a starting point are long gone. Each of these professionals is a valuable and integral part of the modern global labor market. They are the backbone of any company's stability and success.
Moreover, we are always open to people who are just starting their professional career and do not have much experience. Our team is ready to support and help you along this path by offering vacancies with further training and development.